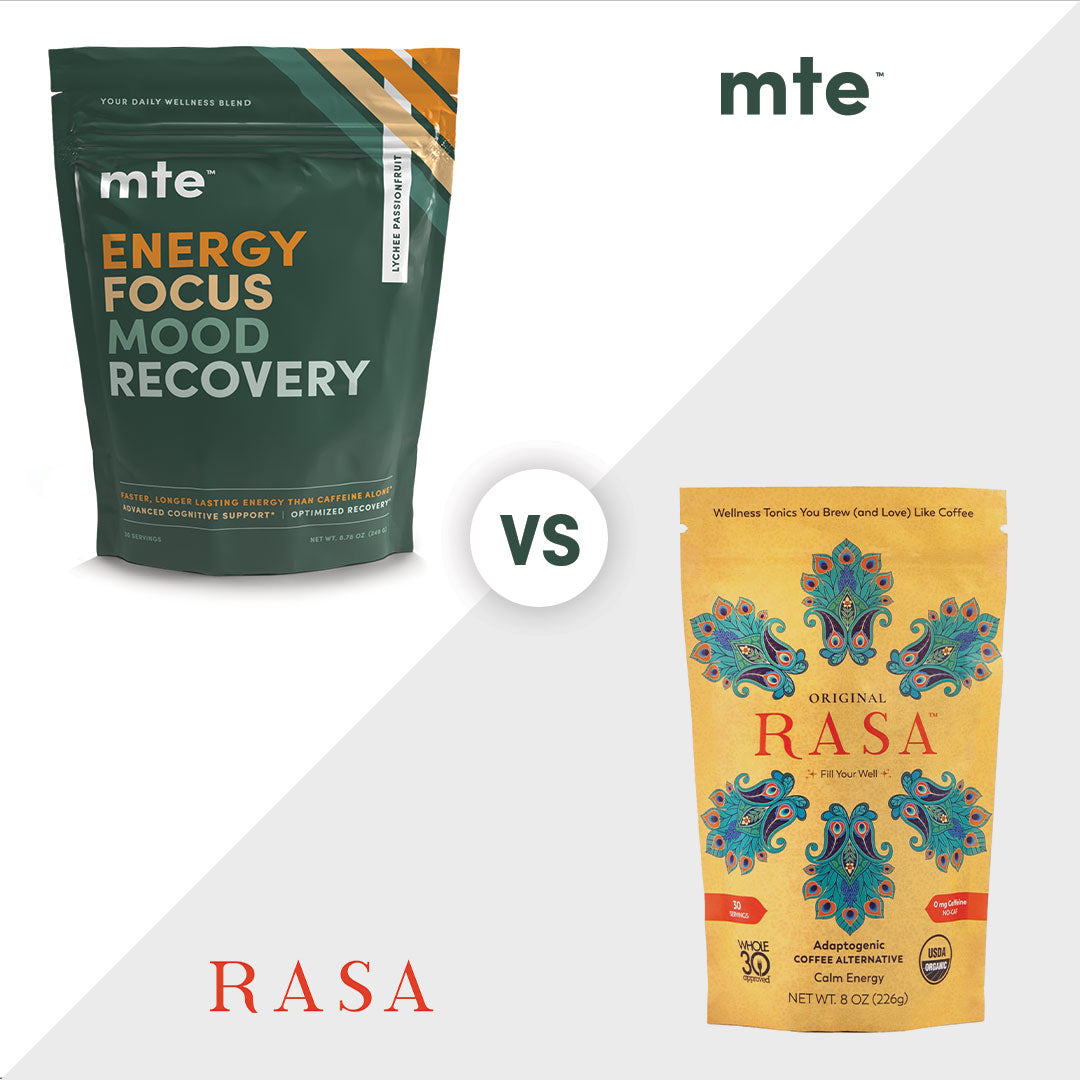 MTE vs. Rasa®: What's the Best Coffee Alternative?
6 Minute Read
Table of Contents:
Intro
Can Coffee Alternatives Really Provide Energy Without a Crash?
Many people feel like their mornings are more like a bumpy ride instead of a smooth sail because of caffeine jitters. Most of us reach for a cup of coffee to kickstart our morning productivity and instead receive a dose of caffeine overstimulation. That leaves us navigating through annoying energy crashes and unproductive mornings. But it doesn't have to be this way.
Lopa Van Der Mersch, the founder of Rasa®, found that the overstimulation she received from caffeine was way too taxing compared to the benefits. These unsustainable caffeine highs and lows, combined with the exhaustion from early motherhood, made her search for a coffee alternative that provided a calmer energy boost with no crashes.
She partnered with a herbalist and created Rasa®, a coffee alternative that combines adaptogens and herbs to provide a more stable form of energy without caffeine. The result is nine different Rasa® blends with a range of benefits beyond a simple energy boost.
In comparison, MTE (More Than Energy) lives fully to its name because it is so much more than a coffee alternative. This wellness powder combines nootropics, adaptogens, and superfoods into a unique formulation that works synergistically to support calm energy, deep focus, better sleep, stress resilience, immune system, and overall well-being.
MTE helps sync the signals between our brain and body, allowing us to combat everyday stress and regain balance. As a result, we feel more dialed in and ready to tackle everything the day brings.
How It Works
Supporting Energy Levels and Feeling Better With Natural Ingredients
Both Rasa® and MTE use adaptogens as part of the energy-promoting formulas. Adaptogens are herbs, mushrooms, and other plant substances that help our bodies combat the effects of stress. 
Rasa® uses adaptogens to keep the body's cortisol levels in check, which is important for how we respond to stress. High cortisol levels cause faster depletion of our body's resources, making us feel exhausted when faced with chronic stress.
By maintaining healthy cortisol levels, adaptogens help regulate cell metabolism and ensure we always have the necessary resources to function optimally. That's how Rasa® achieves balance and provides smooth, steady, and crashless energy.
MTE also uses adaptogens to lower cortisol, combat stress, and support cell metabolism. In addition, it uses nootropics to promote the body's ability to produce clean energy by maintaining optimal hormone levels and brain function. 
MTE's nootropics encourage the natural production of dopamine, a hormone vital for motivation, vigor, mood, and reward. So, by supporting your dopaminergic system without stressing the adrenals, MTE is able to provide consistent, dialed-in energy that doesn't cause a crash.
Benefits
One MTE Formulation to Rule Them All or Different Rasa® Blends for Specific Benefits?
MTE is designed to be a perfect wellness companion that supports your overall well-being by giving you calm energy that lasts through the whole day and many other benefits. The great thing is that MTE's benefits accumulate over time, so the longer you use it, the better you feel.
MTE can help by supporting:
Energy levels
Focus
Better sleep
Stress resilience
Improved mood
Immune system
Fight against inflammation
In comparison, Rasa® has nine blends with different formulations to support a specific part of your wellness. Here's what each formulation can do:
Original – sustained calm energy
Cacao – better mood and rewarding taste
Dirty – caffeinated, crash-free energy
Bold – nourishing, steady energy
Calm – deep relaxation
Super Happy Sunshine – neurotransmitter support for better mood
Spicy Rose Cacao – relaxing aphrodisiac that promotes mood
Golden Chai – supports relaxation and healthy inflammation response
Magnificent Mushrooms – immune support and overall well-being
Ingredients
MTE vs. Rasa®: Harnessing the Power of Adaptogens 
Adaptogens have long been used in traditional and Ayurvedic medicine to manage different health conditions. They are non-toxic, non-specific, normalizing natural substances that can interact with our Hypothalamic Pituitary Adrenal Axis (the HPA axis) and Sympathoadrenal System (the SAS). This helps prepare our neuroendocrine system for stress, making it easier to overcome it.
Rasa® uses seven different adaptogens in their formulations. That includes:
Ashwagandha – calms overworked nerves, supports cell metabolism, promotes longevity, and provides balanced energy
Eleuthero - supports the endocrine system and helps the body produce energy
Codonopsis – promotes digestion, supports immune function, and reduces fatigue
Rhodiola – boosts stamina and endurance, elevates mood, enhances fertility, and improves cognitive function
Reishi – supports the adrenal system and promotes relaxation
Shatavari – nourishes the brain and body 
He Shou Wu – improves stress response, promotes cognitive performance, and improves sexual desire
MTE uses six adaptogens, three of them also being found in Rasa®'s formulation:
Chicory root
Methylliberine
These adaptogens have a tremendous potential to help with:
Stress response
Anxiety management
Cognitive function
Energy levels
Sleep quality
Mood
Immune system functioning
Cardiovascular health
Anti-inflammatory response
Libido
The good news is that MTE's formulation was carefully created to include adaptogens that work well together. So, each ingredient supports the others and works synergistically to help you combat stress, promote clean energy, and boost your overall well-being.
Are There Other Ingredients in MTE and Rasa®?
In addition to adaptogens, MTE uses nootropics and superfoods to supplement the health-promoting and nourishing effects. Nootropics are compounds that can improve focus, boost memory, promote creativity, and support overall cognitive function. 
Here are five amazing nootropics we included in the MTE formulation:
GABA (gamma-aminobutyric acid) – A neurotransmitter that promotes good mood, sleep quality, stress resilience, and more.
Theacrine – This nootropic is the star of MTE's formulation because it brings all the benefits of caffeine without side effects and overstimulation. It can increase alertness, fight off fatigue, boost mood, increase motivation, clear brain fog, and more.
L-Theanine – An amino acid found in green tea that supports mental clarity, improves focus, reduces anxiety, promotes stress resilience, and promotes balanced energy.
Saffron – A herb with the potential to aid mental health, improve mood, enhance memory, improve learning potential, and boost overall cognitive function.
Green tea extract – MTE contains InnovaTea®, a standardized green tea extract with 50 mg of caffeine per serving to supplement the energy-promoting effects of other nootropics and adaptogens.
MTE supplements its formulation with amaranth and spirulina, as these superfoods provide the necessary nutrients and minerals for our body. In addition, they support the immune and anti-inflammatory response and promote athletic performance and longevity.
And what about Rasa®?
Rasa® uses five other herbs to promote calm energy and create these tasty coffee alternative blends. That includes:
Chicory root – supports digestion and liver health. Plus, it tastes great.
Burdock root – supports the immune and lymphatic system, strengthening our body's defenses.
Cinnamon – stimulates circulation, maintains healthy blood sugar levels, and relaxes sore muscles.
Dandelion root – promotes relaxation, helps digestion, and improves liver function.
Chaga – provides comprehensive immune system support.
Pricing & Packaging
Rasa® vs. MTE Price and Packaging Comparison
MTE comes as a ready-to-mix powder with 30 servings per bag. You can mix one scoop of powder with 8-12 oz of cold water or juice or add it to a smoothie and enjoy this feel-good support right away.
Since MTE has the most benefits when consumed daily, your best bet is to get an MTE subscription. That will get you free shipping and a 15% discount on your order, so you'll pay $1.97 per serving of MTE. And honestly, less than $2 a day for accumulating benefits that help you be your best self is a real bargain.
In comparison, you can expect to pay $30-$50 for a bag of Rasa®. That's about $1-$1.67 per serving. You can also subscribe for monthly deliveries and receive a 20% discount on your orders of Rasa® and free shipping. 
The great thing about Rasa® is that they offer sampler packs, so you can easily try several different blends and see which one works best for you, benefit and flavor-wise. 
Rasa® is also careful about sourcing, shipping, and sustainability practices. They use post-consumer recyclable boxes, biodegradable tape, compostable labels and trash bags, biodegradable packing materials, and minimal plastic. So, the brand is pretty eco-aware and trying to minimize their environmental impact.
Other Highlights
How Rasa® and MTE Are Fighting Against Caffeine Overconsumption
We've got to give props to Rasa® – they are everything a coffee replacement should be. Their innovative adaptogenic blends are made with high-quality ingredients sourced directly from farmers, following the best sustainability practices. 
The brand is fully transparent about formulations and the potential benefits, and they display all of the third-party lab testing on their website. In addition, their website is packed with useful information about adaptogens and other helpful materials. Plus, they have a cool quiz to tell you what blend best fits you.
Rasa® blends are tasty, with organic, gluten-free, sugar-free, and vegan options. Only the Dirty blend contains caffeine, while all others rely on adaptogens for energy-boosting effects. That's why Rasa® is perfect for people who want to ditch caffeine.
MTE is also an excellent option for people looking to break from their caffeine dependence because this wellness powder contains only 50 mg of caffeine per serving. That's just enough to kickstart all the energy-producing processes without overworking your brain.
You can use MTE to supplement your energy levels when you feel down. Or you can drink it daily and experience all the benefits on your mood, energy levels, sleep, immunity, and more.
We try to cater to people with different dietary needs, which is why our formulation is friendly for these diets:
We are proud to say our wellness powder contains no:
Sugar bombs
Artificial sweeteners
Preservatives
Dairy
Gluten
Corn, eggs, or peanuts
Artificial colors or flavors
Animal byproducts
As you can see, both MTE and Rasa® are excellent options if you want more energy in your daily life. Rasa® is better for people looking to ditch caffeine altogether and try a few different coffee alternative blends with specific benefits.
MTE is a better option for anyone looking for a well-rounded wellness companion that brings all the benefits in one pack. That means more energy, better mood, laser-like focus, restful sleep, bullet-proof immunity, and more motivation to achieve your goals.Try MTE to fill your days with energy and productivity.
Want more research, results, tips and lifestyle information from MTE?
More articles you might like