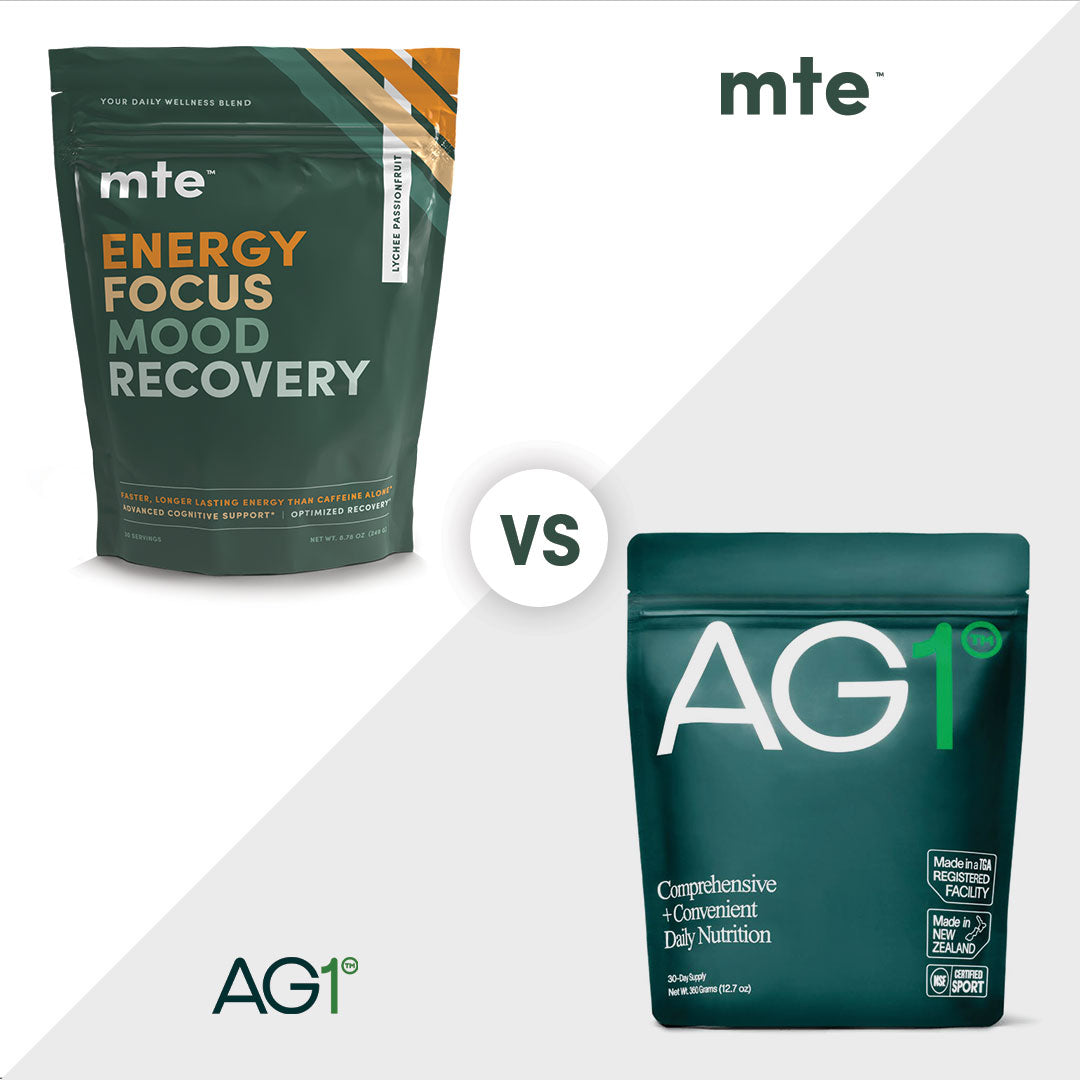 Frenemies or Besties? A Compare/Contrast of MTE® & Athletic Greens®
6 Minute Read
The most common questions we get about how to use MTE by far are about Athletic Greens® – whether or not they can be taken together, what are their similarities and differences, if they break fasts – and that's just a few off the top of the head. We're here for it – anyone who's trying to improve how we look at energy, health and wellness is a friend of MTE. So let's talk about our daily green drink vs theirs:
What is Athletic Greens
®

?

Athletic Greens® (AG1) is a drink mix powder of 75 concentrated vitamins, minerals and whole food-sourced nutrients that's meant to be taken daily. Its formulation can serve to completely replace your multivitamin and probiotics while rounding out the things you're missing in your diet. AG1® supports every system in your body, including your skin, eyes and nerves. 

 

Athletic Greens®' proprietary formula is broken down into 5 complexes of clean, natural, vegan and keto-friendly ingredients:
Dairy-Free Probiotics: Support nutrient absorption and gut health.
Enzyme and Mushroom Complex: Support immunity, increase nutrient absorption, and support proper digestion.
Plant Extracts and Antioxidants: Potent extracts, including adaptogens, that offer supplemental support you won't find in multivitamins.
Superfood Complex: Phytonutrients support key bodily systems and a healthy gut microbiome.
Vitamins and Minerals: Offers the building blocks of a solid immune system and nerve support.
What Exactly is MTE?
MTE (More Than Energy) is a daily healthy energy powder comprised of an advanced blend of 12 adaptogens, nootropics and superfoods. As a part of your daily routine, MTE can replace your morning coffee, serve as a pre or post-workout drink, used to get over that 2:30 pm hump, or any other time you need a competitive edge without the jitters or crash. We offer comprehensive support for the mind and body, because what good is energy if you don't actually feel good?
MTE can help you ditch the caffeine hamster wheel with powerhouse ingredients like:
Amaranth: A superfood with over 8000 years of history, Amaranth's protein and nutrient-dense profile make it useful for improving athletic performance, mood support, energy creation, and neurotransmitter support.
GABA: A nootropic our body naturally creates, GABA calms the nervous system down, which is why it's used for reducing stress, anxiety and cortisol levels, to support mood, improve sleep health, promote sustained attention, and support muscle health.
Holy Basil: Also known as the Tulsi plant, this adaptogenic superfood is a cornerstone of ancient Ayurvedic medicine. Its adaptogenic capabilities have made it useful for a host of health issues, as it supports immunity, digestion, blood sugar levels, stress, mood, energy, and more.
L-Theanine: A plant-derived nootropic, L-theanine is a naturally-occurring amino acid derived from tea leaves. L-theanine appears to have a protective effect on our central nervous system, proving useful for improving attention and cognition while reducing stress and anxiety. It also supports mood and sleep quality.
Maca: An adaptogenic plant related to broccoli and kale, Maca root has been used in drinks and pastes for at least 6000 years for a variety of things, including better mood, reduced anxiety and stress, increased libido, better athletic performance, hormone regulation, improved cognition, and just as an overall anti-aging ingredient.
Similarities Between AG1
®

& MTE
MTE has a lot in common with AG1®, which is probably why they're so complementary:
Ingredient Overlap
There are a few ingredients you'll find in both of these plant-powered health drinks:
Ashwagandha: An ancient adaptogen known for its ability to increase energy, support immunity, and help the body adapt to stress, increasing resilience and curbing cortisol levels. Used for thousands of years, Ashwagandha promotes vitality, relaxation, mood, and strength.
Siberian ginseng: A cousin of Ashwagandha, Siberian ginseng, also known as Eleuthero, supports immune system performance and promotes energy by reducing inflammation and the effects of stress. It's traditionally used in immunity tonics, to promote strength, and to protect the mind and body from stressful stimuli.
Green tea extract: This one's where AG1

®

and MTE get their jump from. High-quality green tea extracts (ours is InnovaTea® – you should check it out) offer the benefits of clean caffeine without sugar or calories. In both products, it's just a touch; neither relies on the green tea extract to do the job of giving you that overall performance boost you're looking for.
So not a tonne of overlap, but some! That means you're getting different ingredients from each that help you take your nutrition game to the next level.
Daily Use for Cumulative Effects
Neither MTE nor AG1® is meant to be a one-off. This isn't about a quick fix; it's about giving your body the support it needs to be well and have energy in the first place instead of chasing that 3-hour caffeine high that leaves you even more tired than you were before.
Both of these wellness drinks are meant to be taken daily. They're working to optimize the way your body functions, so it takes a hot minute to reap the full benefits. AG1® describes cumulative benefits as reaching their max at 90 days of use, and MTE's cumulative benefits usually can be observed after about 30 days of use.
Based in Overall Wellness
These aren't your average energy drink powders; they're a convenient way to get all that good stuff you need to live your best life in just one drink. Our philosophies are about healing from the inside out: fixing your gut, shoring up your immune system, improving stress resilience, and supporting all your body's systems at the same time. 
These things add up and become more than the sum of their parts. After a few weeks of adding MTE to your daily routine, you'll start to notice you feel better, lighter, more capable, and less angsty. When you have the resources you need, life gets better, and that daily jonesing-for-a-caffeine-kick feeling just drifts away.
High-Quality, Natural Ingredients
Both of our companies pride ourselves on sourcing high-quality, natural ingredients. You put good stuff in it, you get good stuff out of it. AG1®'s health food drink is gluten-free, paleo, keto, dairy-free, and vegan. MTE's formulation is plant-based, paleo, non-GMO, refined sugar-free, and comes in sustainable packaging. It's about whole foods and whole health; you can't cut corners in your journey to wellness. 
Function over Flavor
Check out online reviews for either of these products and you'll find that taste is last on the list when it comes to why people love them. Actually, it's nowhere on the list. But this is just a natural part of how AG1® and MTE have disrupted the health drink market: it's not about the taste, it's about the performance. 
Do we really care if it doesn't taste that great if the results completely revamp our quality of life? Hope not. Seems kind of silly, right? Interestingly, MTE is described as bitter while AG1® is described as overly-sweet… so maybe they even each other out if you mix them together! Which leads us to our next question:
Can You Take Both Athletic Greens
®

& MTE?

Sure! Why not? In fact, the 12 ingredients in MTE work synergistically with AG1®, giving you an extra dose of those absolutely key adaptogens and nootropics you need to support mind and body nutrition. Do keep in mind, if you're an intermittent faster, that both AG1® and MTE will break a fast since they're chocked with so many nutrients, vitamins, antioxidants – you get it. So drink them within your eating window.

 

Otherwise, drink your MTE in the morning and your Athletic Greens® before your workout, vice versa, or add your daily scoop of MTE feel-good powder right in your AG1® green powder. They're like two peas in a pod! … Except only one of them contains peas.

 

Because neither of our products are laced with excessive caffeine, sugars, artificial or other not-so-great ingredients, you've got nothing to worry about. Although, while these clean energy drinks are perfectly safe and meant for anyone over the age of 18, people who are pregnant or breastfeeding should consult their doctor before adding Athletic Greens® or MTE to their daily routine.

 
The Benefits of Replacing Caffeine with Bioactive Greens
If you're not on the plant-power, biohacking train, you're missing out on way more than energy. Caffeine is great – in small doses. But it doesn't exactly do a lot on its own. That's why we've got just a bit of caffeine in our formula; it's like a fuse for all the really good stuff in MTE that does the real work. 
The great thing about AG1® and MTE is that, since they're basically just a bunch of plants, they have a lot to offer, and without limitations. You've got immediate benefits, cumulative benefits, comprehensive system support, and the ability to incorporate them into your day however you want without interaction complications you get with energy-boosting drinks that rely on caffeine.
Visit Athletic Green®'s site for more info on AG1®, and check out our Ingredients and Benefits pages for the deets on MTE.
Want more research, results, tips and lifestyle information from MTE?
More articles you might like