Your Daily Wellness Companion
Feel your best with calm mood, jitter-free energy, dialed-in focus, quality sleep at night and more.*
Healthy ingredients. Accumulating benefits.*
13 adaptogens, nootropics & superfoods replace excessive caffeine to support feeling your best - the right way.
No sugar, no fake sugars, & no artificial or shady ingredients.
Level Up
The MTE
Difference
Being Healthy & Feeling Best the Right Way.
learn more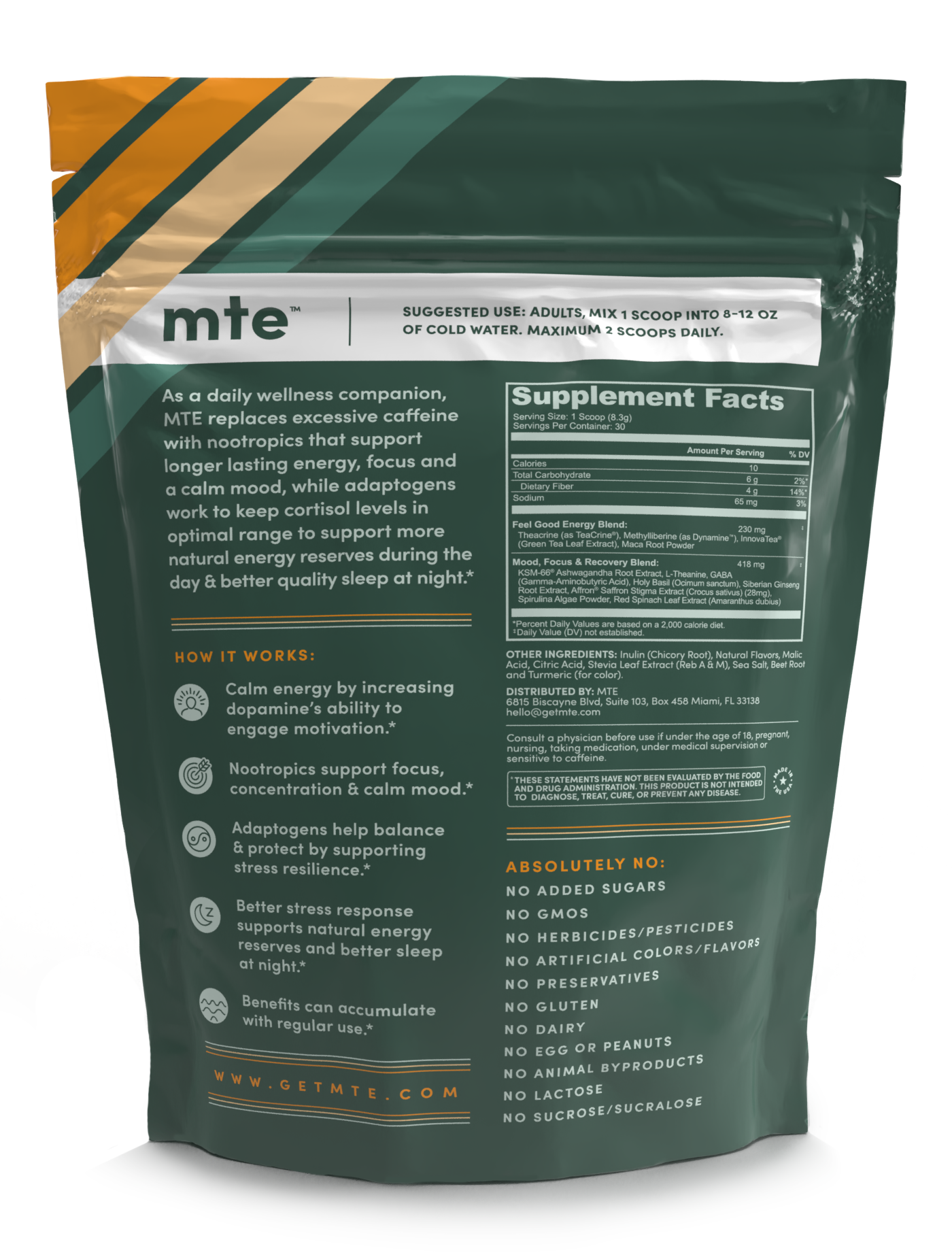 Benefits of Use:
JITTER-FREE ENERGY*
CONCENTRATION & FOCUS*
MOOD*
MENTAL CLARITY*
STRESS RESPONSE*
INFLAMMATION RESPONSE*
SLEEP SUPPORT*
GUT HEALTH*
Better Energy
Meet Teacrine
Commonly found in green tea, this alkaloid provides all the focus and energy benefits of caffeine without any of the common side effects like habituation, jitters, crash and insomnia.*
And since Teacrine is not a stimulant, it works without increasing heart rate or blood pressure.*
Scientific Support
6 Nootropics, 4 Adaptogens, 3 Superfoods
Clinically studied support for energy, mood, focus, and quality sleep at night, while working systematically to support stress response, gut health and more.
A transformative blend with both immediate and accumulating benefits.*
Just as important, no refined sugar, no fake sugars, no shady ingredients.
Check it out
Meet our starting line-up of thirteen powerhouse ingredients.
learn more
The MTE Promise
Thoughtfully Designed in Every Way
Plant-Based

Paleo

No Sugar or Fake Sugar

Non-GMO

No Dairy